Wellington Bullings' quartet will be back at Caffe Sole to bring the soul and jazz. This show will feature some new material she'll be performing with these talented young musicians:
Annie Booth on piano
Anisha Rush on Saxophone/ clarinet
Patrick McDevitt on bass
Show starts at 7pm-10pm.
Caffè Sole   637R S Broadway, Boulder, CO 80305
Email: reservations@caffesole.com.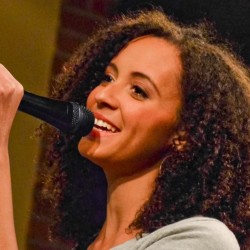 Caffè Sole, Boulder's only jazz supper club has a wonderful, affordable, mostly Italian menu with specialties like sumptuous Penne with Salmon and Shrimp in a Tomato Cream Vodka Sauce, Steak Piccata with capers, cherry tomatoes, Calabrese Peppers in a wine reduction sauce and of course, the perennial favorite Chicken Marsala with Hazel Dell Mushrooms in a Marsala wine reduction sauce over a bed of mash potatoes and sautéed vegetables. Dinner is served from 6-9. Because Sole is an intimate venue, dinner reservations are highly recommended at reservations@caffesole.com.